Bi-directional Epic integration alleviates physician burden
Thanks to the implementation of an integration engine, when access to patient information is just a click away, outcomes go up, costs go down and the doctor regains control

The Oregon Clinic, a 200-provider multispecialty group practice in Portland, Oregon, has quick and full access to records on its patients from two area hospitals where a great deal of their patients are admitted for procedures and treatment. In about a minute, physicians can ask for very specific reports and tests from one or both hospitals and be able to take action based on that data.
What a difference from a year ago, when the clinic's long-standing GE Centricity EHR and the Epic EHR platforms of the hospitals could not work together on data query and exchange. Clinicians instead had to resign themselves to a tangle of faxed requests for documents returned hours or days later, typically in a voluminous dump of pages to wade through for – maybe – the information needed.
An environment of seamless interoperability between crucial healthcare partners is the goal for most provider organizations as the cooperative demands of accountable care and the looming requirements of Medicare's Quality Payment Program escalate the importance of comprehensive access to recent tests and patient history in order to make informed, insightful and cost-effective medical decisions.
For providers at The Oregon Clinic, it was either get the IT platform to interoperate with the hospitals or replace it with a compatible Epic version for physician practices. A decision to move forward aggressively with Stage 2 of meaningful use, despite the disruption and cost, had been meant to gain access to an interoperable environment with the hospitals. When that environment still hadn't been achieved by 2015, administrative leadership started asking questions and demanding to know why it wasn't happening, said Tim Fitzgerald, the clinic's director of information technology.
"It was a very clear demand from our clinicians and leadership to make this happen, by any means necessary, even if it meant spending a bunch more money going to Epic – that was one of the options," Fitzgerald said.
"It was a very clear demand from our clinicians and leadership to make this happen, by any means necessary, even if it meant spending a bunch more money going to Epic – that was one of the options."
Tim Fitzgerald – Director of Information Technology – The Oregon Clinic
Searching for an interface engine
An interface engine was a way to stick with the current EHR, but it had to be robust enough to handle thousands of requests a day and also make the data connection available from within the Centricity environment in a doctor's regular workflow. There was no time to log in to another system to get the hospital information within the constraints of a 20-minute patient visit.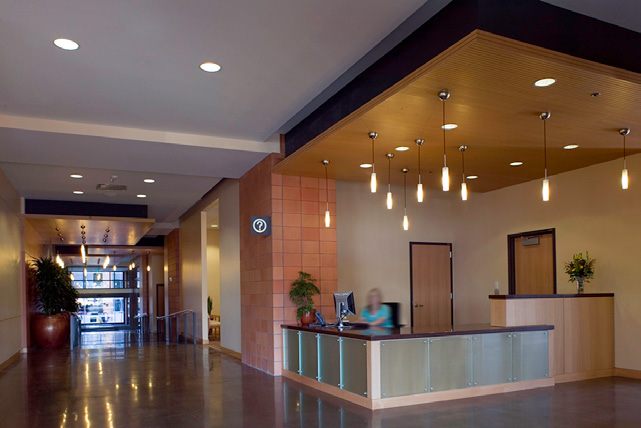 The Qvera Interface Engine (QIE) was already being used to connect The Oregon Clinic to a state medical registry, and it was also recommended as the preferred product by Epic, Fitzgerald explained. The decision to go with Qvera not only made the data exchange possible but also made it easy to configure, specific in the data it could present, and immediate – just as if it were running on the same platform as the hospitals.
"Interface engines have been around since the early 1990s, first produced as a means to get disparate systems within a healthcare enterprise to communicate with one another. That original purpose still holds. But the growing importance of integrating healthcare sites outside an enterprise, to coordinate care and head off worsening health, has created a need for interface engines to exchange data with non-owned partners. It's a new and complex wrinkle, both technically and in terms of functionality," said Sam Shapiro, CEO of Qvera, a Utah-based IT vendor and creator of QIE – the interface engine that The Oregon Clinic has in place.
To be clinically relevant, the process of establishing connectivity with another health system's EHR database has to be more than just the minimum objective of translating messages so they can be understood programmatically and taken in by the destination platform. Clinical users must be able to interact with the process and have the system return to them specifically what they need for a given situation, rather than getting a data dump of all documents that have anything to do with a patient's medical history – a fax dump in electronic form.
QIE differentiator: user-driven queries
A key feature of QIE, built with multi-enterprise integration in mind, is the inclusion of a workflow-driven forms-module that allows user input as part of the interfacing and integration process. This feature allows the physician to refine their query and request only the specific details that they need such as recent test and reports, sent either to a hospital known to have the desired data or to any hospital connected to the interface engine that may have information on the patient. This module, added to the data exchange request, turns the interface engine into a pinpoint search engine. And it routes the documents into the workflow of the clinician's native EHR.
"If the interface engine is just an interface engine and doesn't have this forms-module workflow component, then they're confined to whatever the native functionality is of their EHR," Shapiro explained. "And often that's very restricting in being able to implement clinically relevant and efficient workflows." Whatever search capability the EHR doesn't support can be achieved using the QIE forms-module.
The real-time, bi-directional interfaces between the The Oregon Clinic EHR platform and the Epic platforms of two of the local hospital systems – Legacy Health and Providence Health and Services – has resulted in a more accurate and complete health record for all, which has improved patient outcomes, made the delivery of care more efficient, increased patient access to care and eliminated redundant costs and effort. A third interface connection pending with OCHIN, a hosted Epic installation for mainly community health centers and county health departments in the region, will add another source of rich information for doctors, according to Fitzgerald.
A physician can be in the middle of an exam when a patient mentions a test done at one of the hospitals a few days earlier. The physician can tell a medical assistant to query the hospital for that specific record, which comes back to the EHR screen a minute or so later while the exam continues. "That usability and quickness by the clinicians when they're actively seeing patients was a critical piece" in the choice of interface engine, Fitzgerald said.
Meanwhile at Providence, primary care physicians and emergency department (ED) clinicians have access to the clinic records of patients being treated urgently or on rounds, according to Andrew Zechnich, MD, regional CMIO of the health system and practicing emergency physician.
Shortly after the interface went live, he saw a patient in the ED who was suffering from gastrointestinal bleeding and had recently seen a GI specialist at The Oregon Clinic. In the old days, prior to that interface, generally I would just do without that information," even though the patient mentioned some completed tests, he explained. "I could certainly call them and have them fax some results over, but that's a very time-consuming process on both sides," he said.
Instead, he launched Care Everywhere from within his workflow to query what The Oregon Clinic had recently done and documented. "I was able to avoid doing duplicate tests and have a clear picture. So I saved the patient time, a needle poke, additional cost and I had immediate access to information," said Zechnich. "And that has played out multiple times since then; in fact, I know for our providers, it is a daily occurrence."
"I was able to avoid doing duplicate tests and have a clear picture. So I saved the patient time, a needle poke, additional cost and I had immediate access to information. And that has played out multiple times since then; in fact, I know for our providers, it is a daily occurrence."
Andrew Zechnich, MD – Regional CMIO & Practicing Emergency Physician – Providence Health & Services
In the GI case, according to Zechnich, "That was a much shorter ED length of stay, because I wasn't waiting for additional tests or records to come up [through fax procedures]. I had access immediately."
Clinic specialists on rounds at Providence previously didn't have access to their own records back at the office without significant extra effort, he added. One ENT specialist he looked in on would have two computers up at once, Epic on one, clinic on an adjacent screen. "Now they have access within one system to much of the information in the other," Zechnich said.
A crucial aspect of the multispecialty practice is the ability to work an acutely ill patient into the flow of the clinic visit schedule, Fitzgerald noted. The general difficulty in squeezing the patient in was worsened by the time and staff effort required to ask for, receive and make sense of the necessary tests and history in time to inform a same-day appointment under the fax-based environment.
With maybe two hours to get ready, staff "would start making urgent calls around to every place to try to pull these records together, sometimes successfully, sometimes not," he explained. That process today is done automatically. "We can very easily pull together a clinically relevant record for the doctor using this interface in much less than two hours," Fitzgerald said.
Happier, more productive clinicians
The larger benefit of that interface to and from the hospital is a less stressed, more productive specialist, relieved of a significant amount of the non-clinical, clerical work that studies show is contributing to physician burnout. Often when the physician picked up the assembled paper record, or clicked a browser for scanned versions, he or she had to riffle through many pages of barely legible copies of copies to either pick out the relevant data or conclude after the time-consuming exercise that the attached documents weren't relevant after all, Fitzgerald noted.
That's all in the past, with a direct – and directed – access to only the information necessary, without having to go outside the EHR to examine it, Fitzgerald emphasized. A well-informed physician who can spend an appropriate amount of time with a patient, without the cognitive overload of having to slog through voluminous documents, translates to a doctor in control – with a clear record to grasp the narrative, from clinicians who have seen the patient before, "so they can chime in as specialists with their professional opinions," Fitzgerald concluded.
Produced by HIMSS Media | www.himssmedia.com | © 2017